Downstream market of petroleum coke in October

Downstream market of petroleum coke in October
Since October, the supply of petroleum coke has increased slowly, the main business of high sulfur coke has increased self-use part, the market resources have been tightened, the coke price has increased with it, and the supply of high sulfur resources for local refining is abundant. Getting UHP grapihte electrode information. In addition, the price in the early stage is high, the wait-and-see mentality in the downstream is serious, and some prices have been adjusted back broadly; Northeast, northwest low sulfur coke shipment positive, demand end purchasing enthusiasm is acceptable. Let's analyze the downstream product market of petroleum coke.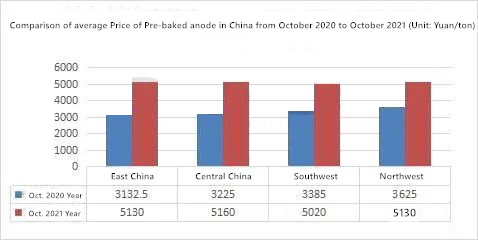 Prebaked anode is an electrode product, which is used as anode material for prebaked aluminum electrolytic cell. In the process of electrolytic aluminum production, the prebaked anode is not only immersed in the electrolyte of the electrolytic cell as an anode, but also involved in the electrochemical reaction to produce consumption. The mainstream price of prebaked anode market is stable, the enterprise production is mostly carried out according to the original order plan, and the transaction is good. However, by comparing the above figure, we can find that the average price of domestic prebaked anodes in October 2020 and October 2021 has long been very different, especially the difference in East China is nearly 2000 yuan/ton, and the difference in central, northwest and southwest China is between 1505-1935 yuan/ton.
Recently, affected by the superimposed factors such as power restriction, production restriction and double control, the price of electrolytic aluminum has been rising all the way. Recently, it has maintained a high level. The holders of goods are selling at a higher price, and the downstream receiving party is repleniting the warehouse at a lower price. The overall willingness to receive goods has improved, and the overall trading is general; After the National Day holiday, calcination enterprises have sufficient stock, and their enthusiasm for purchasing petroleum coke is not good. The impact of limited power and limited production of some calcination enterprises is intensified, the demand for petroleum coke is declining, and the price of petroleum coke falls from the recent high, more market information contact us.