Market is optimistic, graphite electrode price shows a bullish trend

Market is optimistic, graphite electrode price shows a bullish trend
At present, the supply and demand of graphite electrode market are both weak. Under the cost pressure, graphite electrode market continues to gradually implement the early increase, and new single transaction negotiations slowly pushed up. As of April 28, graphite electrode diameter 300-600mm mainstream price in China: RP graphite electrode was 21000-24000 yuan/ton; HP graphite electrode was 22000-25000 yuan/ton; UHP graphite electrode was 23500-28000 yuan/ton; UHP 700mm graphite electrode was 30000-31000 yuan/ton. The price increased by 17.46% over the beginning of the year and 15.31% over the same period last year. It is estimated that after the May Day holiday, graphite electrode market price is expected to rise. The specific factors are analyzed as follows: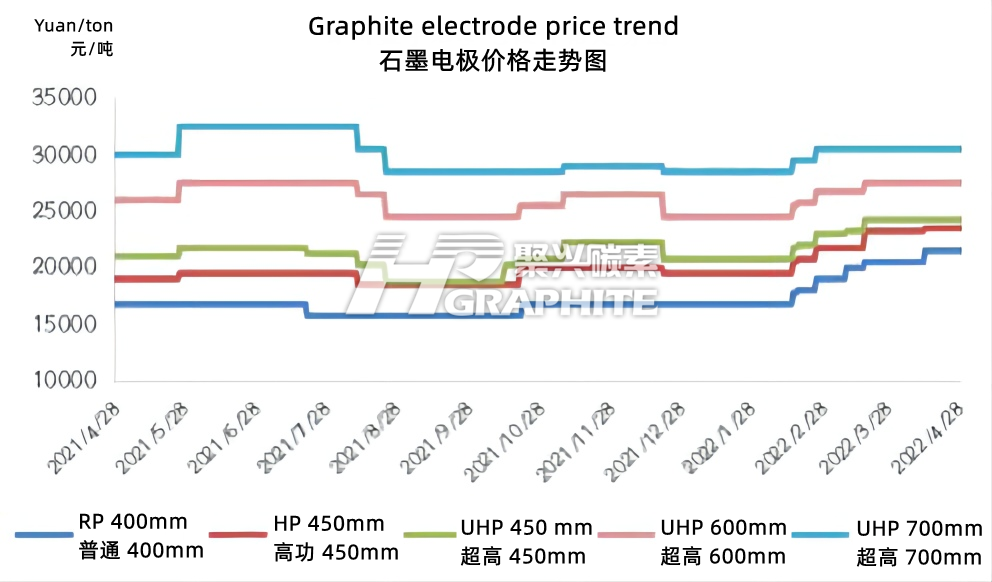 1. High pressure of the cost side continues, graphite electrode price has room to rise
On the one hand, raw materials price upstream of graphite electrode continued to rise. As of April 28, the main refineries' low sulfur petroleum coke price generally increased by 2700-3680 yuan/ton compared with the beginning of the year, with a comprehensive increase of about 57.18%; In terms of needle coke, the price increased by about 32% compared with the beginning of the year; Coal tar pitch also maintained a slight increase in the market. As of April 28, the price increased by about 5.92% compared with the beginning of the year.
On the other hand, due to the hot market of anode materials, anode material enterprises have a great demand for graphitization and graphite crucible. Affected by profit, part of graphite electrode enterprises turn to anode graphitization and crucible production, resulting in the shortage of graphite electrode market graphitization and baking processing resources and the increase of graphitization cost of graphite electrode. At present, graphite electrode graphitization cost is about 5600 yuan/ton.
Based on the price of low sulfur petroleum coke, needle coke and coal tar pitch of current upstream graphite electrode market, theoretically, current comprehensive cost of graphite electrode market is about 23,000 yuan/ton. The market overall profit space is insufficient, and there is still room for graphite electrode price to rise.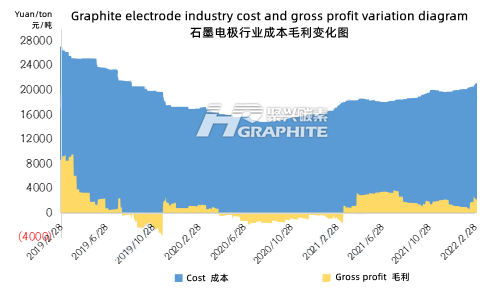 2. Graphite electrode market operation is insufficient, enterprise inventory pressure is small
On the one hand, since October 2021, some graphite electrode enterprises have been continuously affected by the autumn and winter environmental protection and production restriction, Winter Olympic Games environmental control and the epidemic situation. Graphite electrode market operation rate has remained limited. By the end of March, graphite electrode market overall operation rate was about 50%;
On the other hand, under the dual pressure of high cost and weak downstream demand, some small and medium-sized graphite electrode enterprises have insufficient production power. Most production is mainly to ensure normal shipment, and most enterprises reflect that there is basically no inventory accumulation. In addition, it is understood that in the first quarter, China's imported needle coke decreased by about 70% year-on-year, which shows that graphite electrode market overall production is insufficient.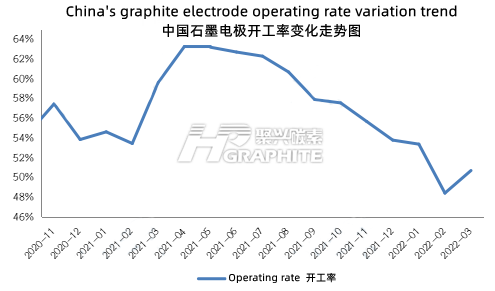 3. Graphite electrode enterprises are optimistic about market demand
In terms of long process steel plants: At present, some long process steel plants are increasing their operation, and UHP small and medium specification graphite electrodes procurement has increased. However, due to the influence of weak and stable terminal steel market, steel plants mostly purchase on demand.
In terms of EAF steel plants: In the first quarter, the profits of EAF steel plants continued to be low, and some of them were lower than epidemic control production limit recently. The steel plants operation was insufficient. In the first quarter, EAF steel plants mostly consumed the early graphite electrodes inventory. Therefore, it is expected that the epidemic impact will be weakened in May and the steel plants will have the demand for replenishment.
In terms of non-steel: Yellow phosphorus, metal silicon and other enterprises have a stable demand of graphite electrode, and due to the relatively low production of RP large-scale graphite electrode, the market demand is good, and some specifications of graphite electrode supply is tight.
In terms of export: At present, although the EU anti-dumping, land and shipping transportation resources shortage still impose certain restrictions on China's graphite electrode export, the Eurasian Union's delay in levying anti-dumping duties on China's graphite electrode is positive for graphite electrode export, and some overseas enterprises and traders have a certain stock demand.
Future market forecast: Graphite electrode market supply is tight, no inventory pressure, and the market shows a bullish sentiment. Under the comprehensive influence of high production cost of graphite electrode and good market demand, graphite electrode enterprises are still optimistic about the market. To sum up, it is estimated that graphite electrode price may increase after May Day, and the increase range is expected to be about 2000 yuan/ton. Contact us for more graphite electrode market information.