【Needle Coke】 Prices Continue to Decline During May Day Holiday

【Needle Coke】 Prices Continue to Decline During May Day Holiday
1. Needle Coke Prices Decline
Unit:Yuan/ton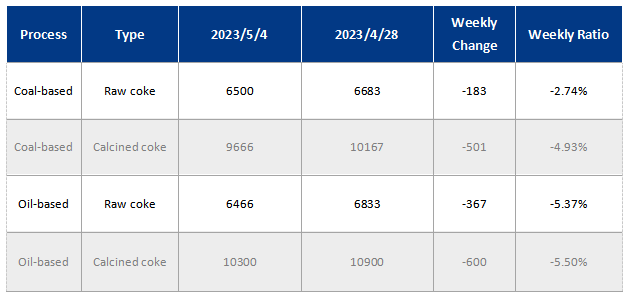 In May, the prices of needle coke in the market continued to decline, with the mainstream price range for coarse needle coke at 6000-6500 yuan/ton, and some prices falling below the 6000 yuan/ton mark. The mainstream price for fine needle coke was 9500-11000 yuan/ton, and some prices fell below the 9000 yuan/ton mark. The decline in needle coke prices after the May Day holiday ranged from 3-6%.
2. Stable Supply and Demand in Needle Coke Market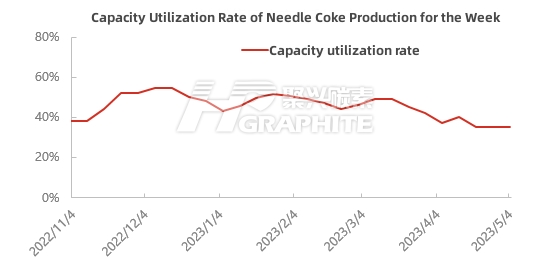 During the May Day holiday, the supply of needle coke remained stable, with the average capacity utilization rate at 35% during the week, which was unchanged from the previous week. There were no new companies opening or closing. Most coal-based needle coke companies were shut down for maintenance. Although the price of coal-based raw materials has fallen, considering downstream demand and profit factors, the enthusiasm for coal-based companies to resume production is not high. Oil-based needle coke companies maintained low-load production, with some manufacturers shut down and most having sufficient inventory for sale.
In terms of demand, the lower profitability of downstream steel mills led to a decline in their operating rate, while the graphite electrode sector operated at low loads and adopted a wait-and-see attitude towards raw materials, with only a small amount of rigid demand. Although there are signs of recovery in the negative electrode sector, the trend of cost reduction in raw materials is irreversible, and petroleum coke can still be used as a substitute for needle coke.
3. Significant Discrepancy between Theoretical and Actual Profits in Needle Coke Industry
Unit: Yuan/ton

According to estimates, the prices of needle coke raw materials have dropped significantly, with the price of petroleum slurry ranging from 3650-4100 yuan/ton and the price of modified coal tar pitch ranging from 3200-3500 yuan/ton. As a result, the theoretical profit of needle coke production is still reasonable, especially for coal-based needle coke companies, which have seen a significant rebound in profits. However, in the actual production process, the profit margins of needle coke companies are not as high as the theoretical profit calculations. Both oil-based and coal-based companies use expensive raw materials for processing, and additional expenses such as warehousing fees due to poor shipments lead to actual needle coke production profits still being on the verge of losses. This is also a key reason why needle coke production is currently maintaining a low load.
4.Future predictions
The needle coke market still lacks positive factors, and the decline in raw material prices has put some pressure on market prices. As for downstream demand, there may be some signs of recovery in the negative electrode and graphite electrode sectors. The future outlook for the needle coke market is expected to be stable with a slight weakness, and priority will be given to shipments. For further information on needle coke industry reports, please feel free to contact us.