Raw materials continue to strengthen, electrode stable and rising (4.14-4.21)

Graphite electrode weekly review: Raw materials continue to strengthen, electrode stable and rising (4.14-4.21)
This week domestic graphite electrode prices rose slightly. Some small and medium-sized manufacturers in Hunan, Inner Mongolia and Hebei tentatively raise the price by 500-1000 yuan/ton, the leading manufacturer price is temporarily stable, but many manufacturers are still cautious and optimistic about the future market.
On the one hand, raw materials price has maintained an upward trend recently. Graphite electrode upstream needle coke and petroleum coke prices have been raised for many times. On April 20, Jinxi Petrochemical Petroleum Coke increased by 300 yuan/ton again.
Secondly, the anode market occupies part of graphite electrode graphitization resources, and graphite electrode market processing cost is rising. At present, the graphitization processing cost of graphite electrode is about 5600 yuan/ton.
In addition, the transportation in some regions has improved, most graphite electrode enterprises maintain normal production, and steel plants bidding will also increase before the end of this month.
Up to now, UHP450mm specification with 30% needle coke content market mainstream price has reached 24500-25500 yuan/ton, UHP600mm mainstream price is 28000-29000 yuan/ton, and UHP700mm price is 32000-33000 yuan/ton.
ICC China graphite electrode price index (April 21)
| | | | | | |
| --- | --- | --- | --- | --- | --- |
| Specifications | Price index | Week on month ratio | Month on month ratio | Batch | Unit |
| | 27796 | 0.0% | 0.0% | >30ton | Yuan/ton |
| UHP450 | 24493 | 0.0% | 0.0% | >30ton | Yuan/ton |
| HP450 | 22927 | 0.0% | 0.0% | >30ton | Yuan/ton |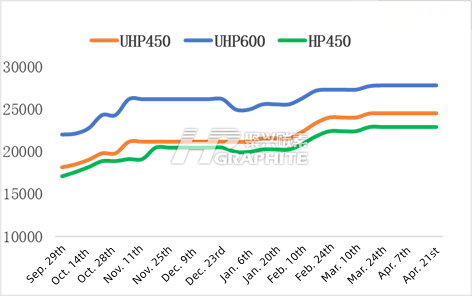 Raw materials aspect
This week, the international crude oil market was first depressed and then raised. Due to widespread concerns about economic growth and the slowdown of crude oil demand, as well as the fully recovery of Kazakhstan Caspian oil pipeline transportation capacity, oil prices dropped sharply in midweek. However, with the escalation of the conflict in Ukraine, the market's concerns about the possible further reduction of Russian supply and the political deadlock in Libya, all of which highlight the vulnerability of supply. In addition, the sharp increase in U.S. crude oil inventories supported oil prices bottom recovery.
This week, the leading manufacturers in Liaoning raised the ex-factory price of petroleum coke and calcined coke by 300-400 yuan/ton again, leading manufacturers' oil series needle coke quotation in Shandong increased by 500 yuan to 14000-15000 yuan/ton, and graphite electrode manufacturers' cost pressure continued to increase.
Steel plant demand
This week domestic steel prices rose slightly, social inventory continues to decline, and the market mentality improved. Electric furnace steel capacity continues to be limited. This week, the utilization rate of domestic 135 steel plants EAF steel capacity fell to 50.85%, down 0.29% from last week. However, the output of long-process steel plants increased, and the total demand for graphite electrode in the steel industry increased slightly.
Non steel demand
This week, the domestic metal silicon market continued to consolidate weakly, down about 100 yuan compared with last week, and the low price transaction in the market has recovered. This week yellow phosphorus market operated smoothly. With the May Day holiday approaching, downstream inquiries increased.
Market forecast
As the impact of the epidemic is weakened, steel plants' demand for graphite electrode is expected to be improved in May. Under the expectation that the cost of graphite electrode market will continue to increase, domestic graphite electrode market price will still have some room for rise in the short term. Reading more related news please contact us.