China's graphite electrode consumption is expected to reach about 873,700 tons in 2023

【Industry Research Report】 China's graphite electrode consumption is expected to reach about 873,700 tons in 2023
Graphite electrode is a heat-resistant graphite conductive material that can conduct electricity to generate electrical energy, and then melt scrap iron or other raw materials in a blast furnace to produce metal products such as steel, mainly used for manufacturing steel.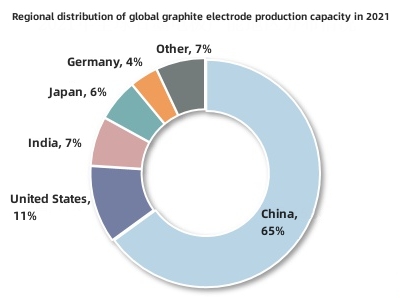 Graphite electrode production data analysis
In 2020, the COVID-19 had a negative impact on the operation of graphite electrode manufacturers. Due to government restrictions, including changes in business hours, labor interruptions, and operating procedures, China's production of graphite electrodes has significantly decreased.
By 2021, graphite electrode production had rebounded to the level before the COVID-19, with an increase of about 30.2%. The reasons for the growth are: China's increased production of graphite electrodes, trade recovery, and a rebound in the electric arc furnace steel's operating rate.
In the future, with the recovery of operating rates and the government's policy support for the development of electric arc furnace steel, graphite electrode production is expected to reach about 1,089,400 tons in 2023.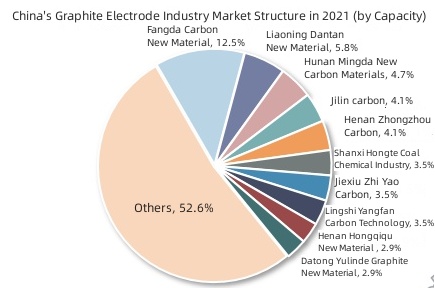 The process for manufacturing graphite electrodes includes mixing, pressing, baking, draining, and impregnating, re-baking, graphitization, and machining. The main characteristics of graphite electrode manufacturing are long production cycles (generally lasting 3 to 5 months), large power consumption, and complex production process.
According to the differences in raw materials and physical and chemical indicators of the finished product, graphite electrodes are divided into regular power graphite electrodes, high-power graphite electrodes, and ultra-high power graphite electrodes. Compared to the global ultra-high power graphite electrode market, the Chinese standard ultra-high power graphite electrode with a lower characteristic grade (a term generally recognized in China's graphite electrode market, which can generally withstand 20 square centimeters of 20 square centimeters per square centimeter).
However, some arc furnace steel manufacturers, such as stainless steel manufacturers, have high standards for high-power graphite electrodes in China, including physical and chemical indicators such as density, resistance, and ash content. Only a few manufacturers in China are able to produce ultra-high power graphite electrodes used by arc furnace steel manufacturers, accounting for 11.4% of production, making it the smallest type of graphite electrode production in China.
Since 2016, China's graphite electrode consumption has increased, reaching about 740000 metric tons in 2021, among which, high-power graphite electrodes consumption was 307800 hectares, accounting for 41.1% of the market, making it the highest type of graphite electrode consumption. The compound annual growth rate from 2017 to 2021 was about 14%. China's graphite electrode consumption is expected to reach around 873700 metric tons by 2023. Contact us to learn more about the capacity and consumption of graphite electrodes.