【Negative electrode materials】 Low sulfur coke rises, negative electrode materials stable

【Negative electrode materials】 Low sulfur coke rises, negative electrode materials stable
Recent developments
The 100,000-ton natural graphite negative electrode material project of Zhejiang Shuangya Shan Carbon One New Energy is under construction, and the main steel structure construction of the finished product packaging workshop and the graphite carbonization workshop has been completed. The spherical graphite warehouse foundation has been completed and is currently installing the embedded steel structure foundation, with the main steel structure installation scheduled to begin on May 10th.
Recently, the 400,000-ton lithium-ion battery negative electrode material Phase I project of Guoxuan Zero Carbon Technology Co., Ltd., with a total investment of 10 billion yuan, has undergone small-scale trial production, and the trial production products have been ordered and will be shipped to Hefei and other places soon.
Recent market trends: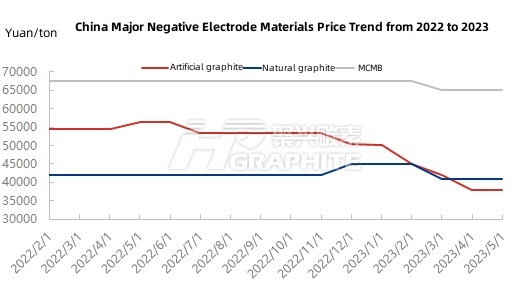 China negative electrode material market prices

The mainstream negative electrode materials, natural graphite is priced at 40,000-42,000 yuan/ton, artificial graphite is priced at 36,000-40,000 yuan/ton, and intermediate phase carbon microspheres are priced at 65,000-70,000 yuan/ton.
3. Recent production and sales dynamics
Supply: In April, the output of negative electrode materials slightly decreased month-on-month, downstream demand was limited, battery factories are still in the destocking stage, and mandatory purchases are the main trend. Some small and medium-sized enterprises have reduced their production load, resulting in a slight decrease in output.
Demand: The inventory of downstream battery manufacturers has recovered to a healthy level, and demand is expected to pick up.
4. Related product trends
Petroleum coke: Recently, the overall transaction of the domestic petroleum coke market is still good, and the weak stability of the mainstream coke price supports the sales in the refining market, leading to sporadic rebound in coke prices.
Needle coke: Affected by poor downstream demand, the atmosphere of factory shipments is weak, and market prices continue to decline. The price range of green coke is 6,000-6,800 yuan/ton, and the market price range of calcined coke is 8,800-11,500 yuan/ton.
5. Future forecast
After the holiday, the price of negative electrode materials is expected to remain stable, and from the perspective of battery factory production, orders are expected to gradually improve in May, indicating a trend of gradual recovery in the negative electrode material market demand. For more reports on negative electrode materials industry, welcome to contact us.