【Negative Electrode Materials Daily Report】 Slow Demand Recovery, Prices Temporarily Stable

【Negative Electrode Materials Daily Report】
Slow Demand Recovery, Prices Temporarily Stable
Ⅰ. Current Focus
1. In accordance with the letter (No. 15 of 2023) issued by the China Electronic Quality Management Association on August 1, 2023, plans for three standards for sodium-ion battery materials, namely "Hard Carbon Anode Material for Sodium-Ion Batteries," "Vanadium-Based Poly Anion Sodium Cathode Material," and "Phosphate Pyrophosphate Iron Sodium Cathode Material for Sodium-Ion Batteries," have been officially approved for project establishment.
2. On August 6, at the construction site of the Anhui Carbon Lithium Battery Negative Electrode Materials Project in Huaining Economic Development Zone, construction machinery is in full swing, and various tasks are progressing steadily. The total investment in this project is about 5 billion yuan, primarily engaged in the production and sales of artificial graphite precursors and artificial graphite negative electrode materials. Following automation, intelligence, and digitization standards, the project aims to achieve an annual production capacity of 100,000 tons of artificial graphite precursor and artificial graphite negative electrode materials.

Ⅱ. Current Market Situation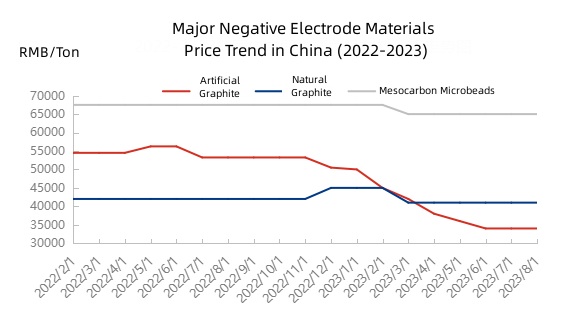 Source: Oilchem
China Domestic Market Prices for Negative Electrode Materials

Mainstream negative electrode materials: Natural graphite is priced at 40,000-42,000 yuan/ton, artificial graphite is priced at 32,000-38,000 yuan/ton, and mesocarbon microbeads are priced at 65,000-70,000 yuan/ton.
Ⅲ. Current Production and Sales Dynamics
1)Supply: Manufacturers of negative electrode materials have experienced a slight increase in production, with single-order production being the main focus.
2)Demand: Sales of new energy vehicles are improving, contributing to a gradual recovery in demand for negative electrode materials.
Ⅳ. Related Product Market Trends
1)Petroleum Coke: The current domestic petroleum coke market is showing improved trading conditions, with transaction prices trending upwards.
2)Needle Coke: There is a certain atmosphere of mild recovery in downstream negative electrode demand, albeit with limited magnitude. However, demand for needle coke has not shown a significant boost, resulting in weak price trends. The mainstream price for calcined needle coke is 8000-9500 yuan/ton, and for raw needle coke, it's 5000-5500 yuan/ton.
Ⅴ. Future Market Forecast
The digital market and the market for small-scale power applications remain weak, while the recovery of the new energy vehicle market and the power market is slow. It is expected that the short-term prices of negative electrode materials will remain stable. Follow us to gain insight into the market trends of negative electrode materials.